Introduction
Enterprises and organisations across the globe are embracing the arrival of a new digital age. Smart Manufacturing, fifth-generation (5G) communication, advanced integrated hardware and software developments are changing the way humanity and machines work together to produce commercial goods and provide services. Research and development (R&D) in such areas is accelerating new innovations.
One piece of technology that is set to revolutionise the way businesses operate is robotics process automation (RPA). At present, businesses are learning how to use RPA to their advantage and create a stable, adaptable framework for it to work successfully. Because RPA is a new technology, businesses tend to struggle to implement it. However, when implemented correctly, it could become a solid foundation for leading the company to Intelligent Automation (IA), the combination of RPA and artificial intelligence, to automate processes end-to-end.  
According to a report from Deloitte published in 2019, intelligent automation technologies were estimated to provide an average cost reduction of 22% and a revenue increase of 11% over the next three years. However, for those organisations that have already implemented such technologies, they say that they achieved an average of 27% reduction in costs.  
Industry standards, best practices, documentation, and licensing are not easily accessible for most and many businesses turn to service providers and consultancies for expert help. To successfully implement RPA and Intelligent Automation to increase your return (ROI), a dedicated Centre of Excellence (CoE) needs to be established. In this article, we provide you with a 5 step plan to creating your own RPA/IA CoE from scratch. 
What is an RPA Centre of Excellence?
The discussion and debate around RPA centers of excellence (RPA CoE) is relatively new, yet forward-thinking organizations have already used the COE model to reshape the way they operate. In the last few decades, CoEs – often also referred to as 'Knowledge Centers' – have been used for various purposes to share accumulated knowledge in different fields such as marketing, pharmaceuticals, automotive and telecommunications.
A Center of Excellence (CoE) can be described as a group of highly skilled individuals that work together to break down knowledge in a specific area of interest and provide an organisation's employees with the support needed for implementing technology with recommended best practices. 
A CoE dedicated to Intelligent Automation (automation or RPA CoE) focuses on embedding a strong framework and successfully implementing automation tools within an organisation.
Why do you need an RPA Center of Excellence?
In a post by Robocorp, it was stated that 11 out of 12 automation projects fail. Not having the right set up and governance in place for the successful implementation of RPA and Intelligent Automation can kill your investments. Read more on why RPA fails and how you can prevent it.
What if organisations wished to bring RPA to a new level of successful, adaptable, and scalable automation? What if Intelligent Automation is the goal? This is where a dedicated CoE comes into play.
The center of excellence allows for swift digital transformation while controlling the associated risks, ensuring that you're managing your automation investments wisely. Establishing one enables you to operate and monitor your initiatives efficiently and with complete transparency. The automation CoE is at the intersection of control, speed, and agility.
An RPA/IA CoE can be used to centralise and share information on Intelligent Automation best practices so that different business units (BUs) can implement desired automation strategies with a unified goal of improving business productivity.
This means that BUs can move ahead together without wasting time on independent research, platform integrations and third-party consultation. For more on the benefits of an RPA CoE, click here.
Now, let's get into the 5 steps you need to set up a successful RPA CoE!
Step 1: Choose a CoE governance structure
Setting up the structure of an RPA CoE is very important and one of the key factors for a successful intelligent automation journey. This is a lengthy topic in its own right and we'll only touch upon this lightly within this guide. There are three main models: Centralised, Federated and Hybrid.

The Centralised Model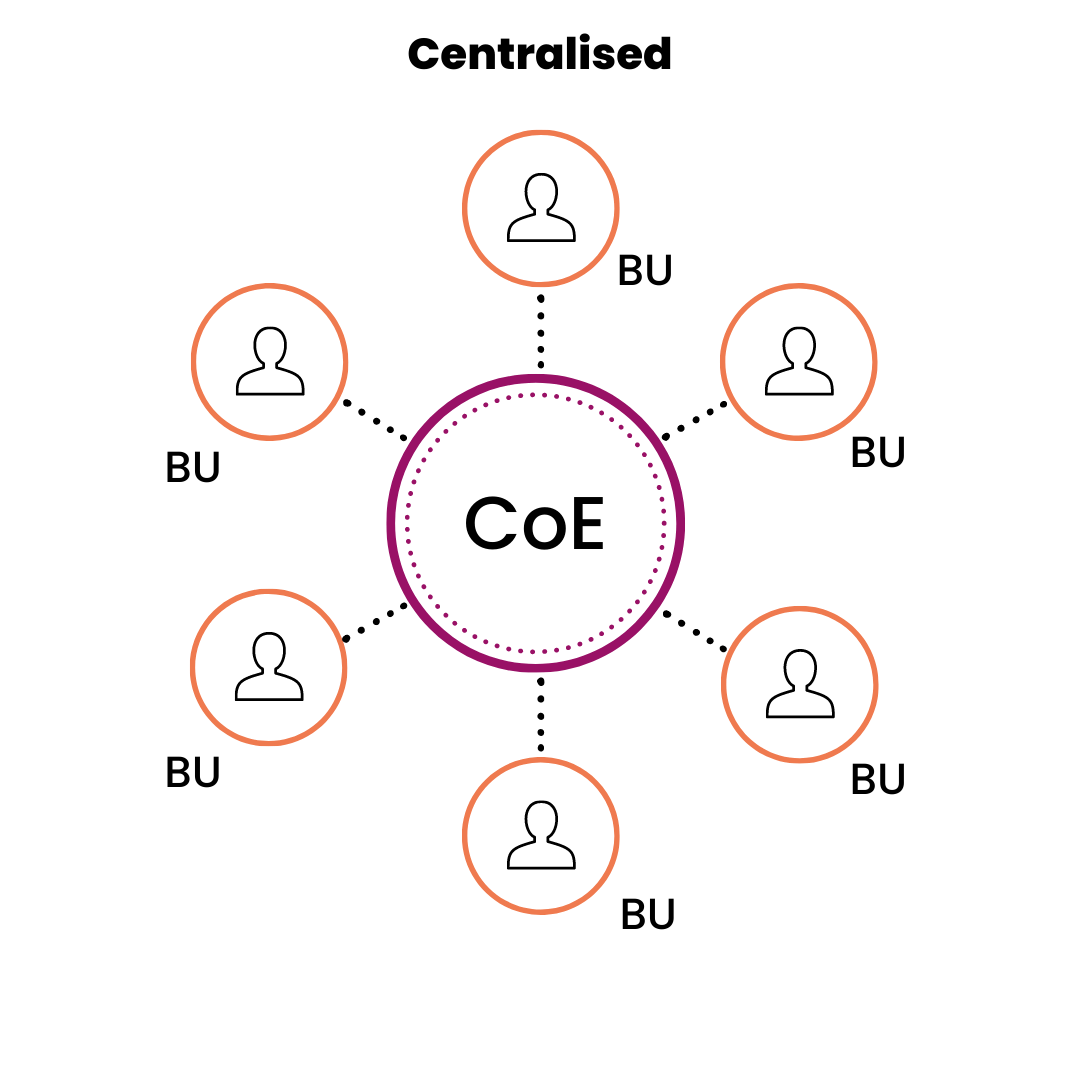 A centralised model is the easiest to establish and is usually the starting point for companies looking to implement RPA within their organisational framework. It is one we regularly recommend to those getting started with intelligent automation.
A centralised RPA CoE model involves governance by a single centralised team that handles the majority of RPA development, installation, documentation, IT testing, and delivery. They are usually attached to IT or act as shared service centers. The central team needs to dedicate a lot of time to defining and establishing best practices and ensuring that team members develop their knowledge while delivering on RPA projects.
A centralised framework can be beneficial for building and developing standards for coding best practices. Time can be spent making standards reusable for other BUs, collating the right documentation, and delivering well-rounded RPA projects.

All automation projects are handled from a central location, which increases transparency, enables central governance and facilitates the scalability of RPA and other Intelligent automation technologies from across the various business units. Additionally, a centralised RPA CoE can also serve as a solid foundation from which a federated model can be generated in the future.
The Federated Model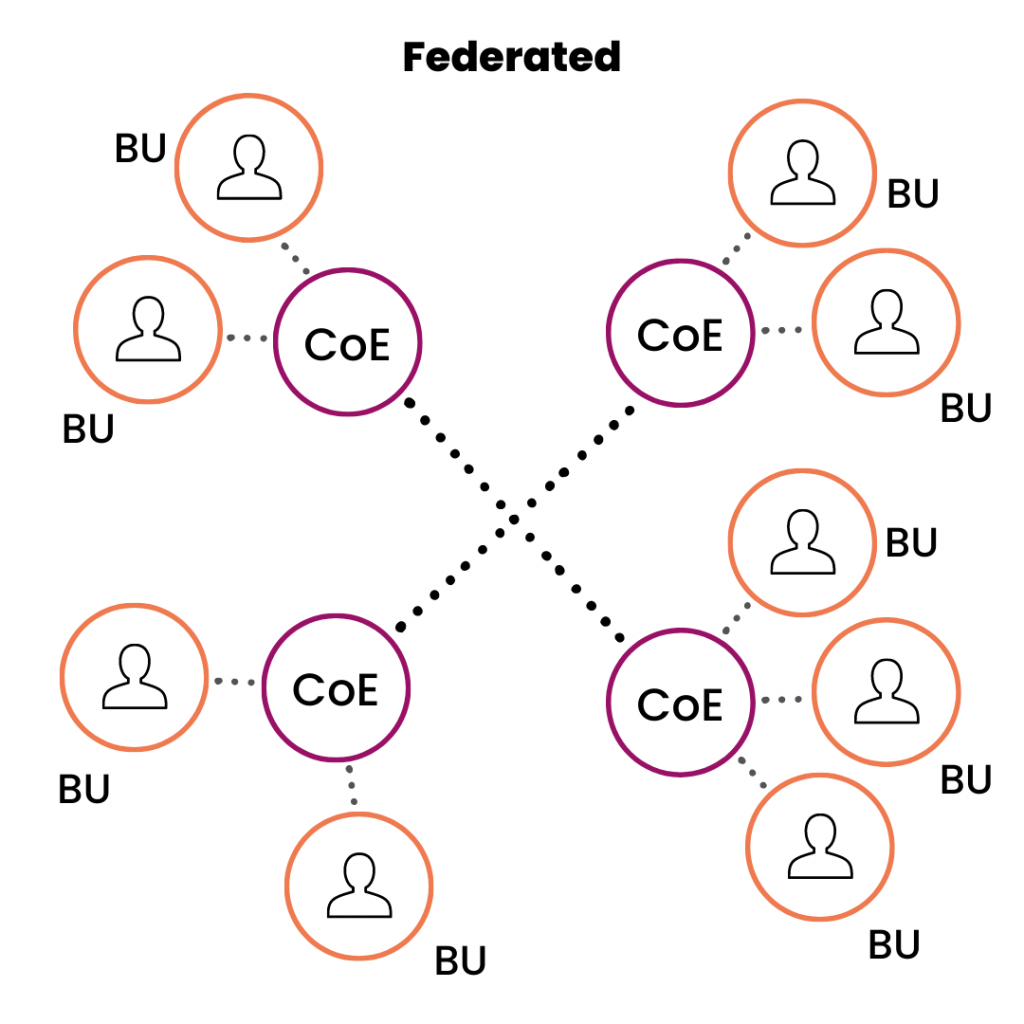 In a federated RPA CoE, CoE capabilities are present in small groups and it is characterised by is characterized by its proximity to an individual business unit.  
This proximity to BUs takes advantage of their process knowledge and can lead to rapid success. A federated RPA CoE can allow processes, policies and standards to be set up with greater ease, economies of scale to be achieved, knowledge to be reused, and BUs to have greater ownership over decisions concerning automation initiatives.
Despite such benefits, it can take a lot of time to scale to a successful federated model. The decentralised structure limits any options for central control, making it difficult to achieve cross-company transparency and scalability. It usually requires time for the CoE to develop best practices. Team members need time to get to grips with the intelligent automation technologies and to refine and streamline access requests and machine provisioning. 
The federated model may work best for enterprises that are large in scale and distributed globally, which also conduct themselves by highly decentralised decision-making.
The Hybrid Model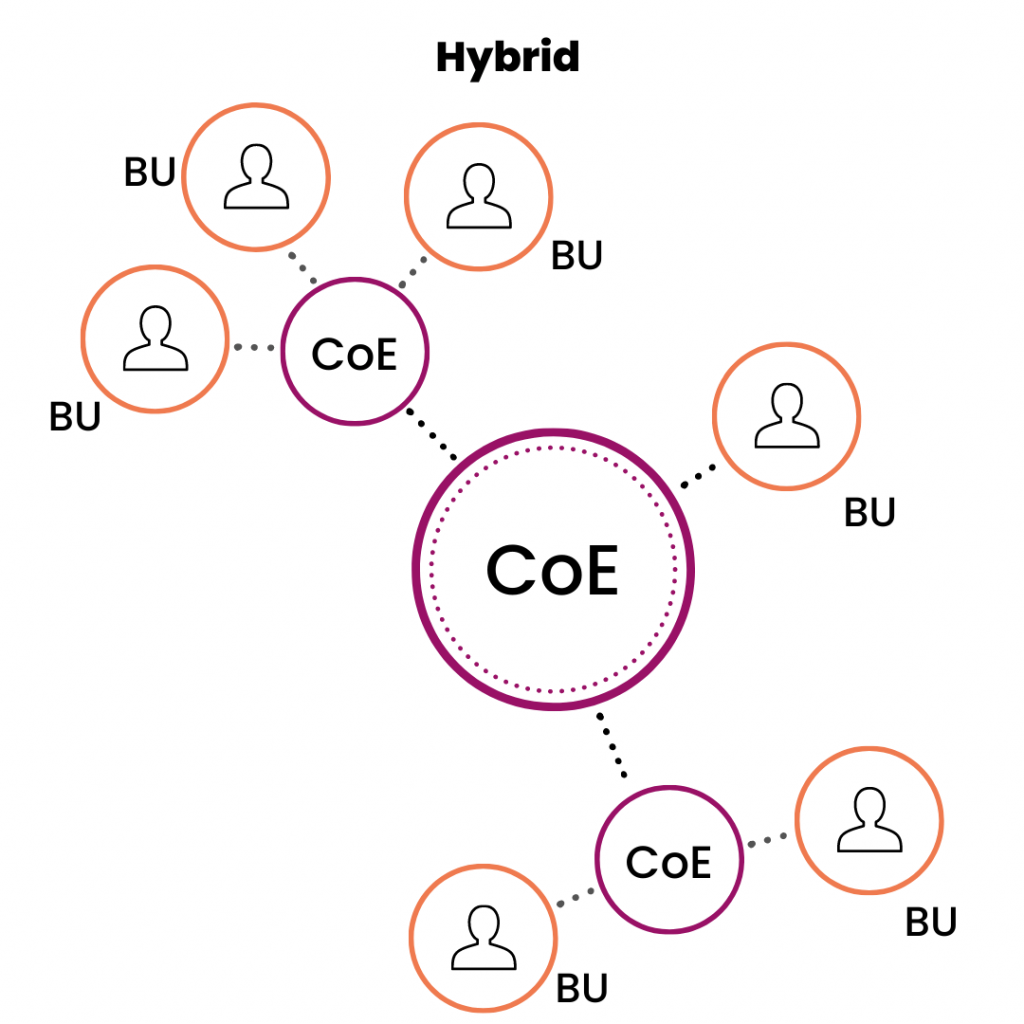 In the hybrid RPA CoE model, governance is still centralised to an extent, but BUs or functions retain the ability to make independent decisions concerning immediate business requirements. Essentially, the central CoE will provide delivery and operational support while the business unit CoEs may use their own methods concerning automation activities and implementation. It's the best of both worlds.
Choosing a hybrid model can be less expensive and enable ease of scalability through a central and standard platform. Additionally, the CoE team retains ownership and responsibility for a shared RPA capability.
A potential disadvantage of using the hybrid model is that it may be difficult to achieve centralised change and RPA delivery across multiple BUs or operational functions. Some BUs may have greater success than others, potentially cancelling out total ROI.
Despite centralized control, this approach offers room for individual BU solutions and is suitable for organisations that have individual business units with particularly high automation potential.
Step 2: Analyse the cost of an RPA Center of Excellence
It's no secret that a CoE costs money. A competent CoE needs money to function, as it requires the appropriate resources, operations and expert salaried employees to run smoothly. To sum up, CoEs are meant to change processes and workflows through automation in order to increase both effectiveness, efficiency and productivity, and in most cases, reduce costs.
A poorly designed, or poorly funded CoEs can end up costing more money than they save the company. The question of solid financing for the CoE is important to consider – will the CoE be run as a cost or profit center?
Ideally, the more funding your CoE receives, the more efficiency, productivity and cost savings they can unlock from your processes.
Profit Center
By managing the CoE as a profit center, you'll need to push them to achieve certain sales, performance, productivity or ROI targets. The CoE will be managed as an autonomous unit that has a great deal of freedom. This freedom also includes the fact that external sales can be generated in addition to internal company sales. As long as the CoE continues to operate profitably, you will have setup a cost-neutral solution for organisational process automation.
However, this push to make a profit can be a risk. The CoE may prioritise internal processes that don't align with the objectives of the company's digital transformation goals. It may even look for other sources of funding such as external consulting, training or services work for other companies.
Cost Center
When choosing to manage the CoE as a cost center, they are given a budget that is to be used as sensibly as possible to fulfill the CoE's automation objectives. This means that the CoE needs to assess and qualify the ROI of automation projects with even more scrutiny than the profit center model. In this way, even small projects have a chance of being implemented, as long as they make financial and productive sense. However, since working profitably is not at the forefront of the CoE as a cost center, it can sometimes lead to a CoE operating at a loss. To prevent this, the management could decide to make the cost-benefit aspect the sole and decisive criterion for the realization of automation projects.
Step 3: Setup your RPA CoE Team Structure
After considering the costs of a CoE, it's time to think about the people you need to bring in to make the RPA CoE into a real-world entity.
The heart of a CoE is the team of experts. The size of the team ultimately depends on the size of the company and the scope and goals of your organisation's digital transformation initiative. A CoE can consist of a small team of three people, or more. It can be set up for just one specialist department or for different departments. All of the core competencies that are needed to run an RPA project successfully need to be present.
It is crucial for organisations to consider which competencies and experts are already available and whether they can be utilised for creating a CoE. You can even combine roles and responsibilities and assign them to one person, depending on how the company is structured internally. However, with this greater responsibility comes the need for an even more experienced team.
"The skills and experience required to set up a successful RPA CoE are occasionally an afterthought by some organisations but in fact, are just as key as the other parts of the process"

Harrison Goode, co-founder of specialist talent services firm, Edge Tech
A typical RPA CoE team structure involves several key personnel with varied experience and skill sets to work coherently. Below is a list we have compiled of key RPA CoE roles and responsibilities which make a formidable team. 
RPA Sponsor: your main executive
The RPA Sponsor is responsible for the delivery of the overall robotics strategy and ensures that the CoE is maintained as a driving force behind the entire enterprise.
They need to provide:
Support within the organisation in order to establish the program. The RPA Sponsor will have to gain the cooperation of peers and clear obstacles in the RPA CoEs path.
Change management, an important aspect, to help employees feel energised and optimistic to tackle the new challenge and adopt new technologies.
Evangelise and promote an "automation first" mindset.
Set Realistic Expectations for leadership, aligned with the company's broader strategic and transformative goals.
RPA CoE Lead
This senior executive position is important for making sure CoE activities go ahead as planned, providing reports on performance, and leading CoE operations. The RPA CoE Lead will provide:
Thought leadership – based on their expertise and perspective with digital automation, the RPA CoE lead offers unique guidance, inspires innovation and influences others
Sharing guidance and best practices – Creating and sharing guidance on the use of different Automation tools and company best practices.
Enabling developers and business users – providing the necessary access to tools, training and resources.
Performance reporting – communicate the impact and performance of the entire Intelligent Automation initiative to senior stakeholders to gain buy-in for further growth.
RPA Champions: Hype creator
While not necessarily a cost, these individuals can be thought of as modern-day gladiators that fight to win over the crowd in the name of RPA and intelligent automation. Or less poetically put, these RPA champions work to push forward the adoption of automation throughout the organisation.
RPA Project Manager
The RPA project manager will be interfacing with stakeholders throughout the company to help drive the adoption of the RPA. This role is crucial for ensuring the delivery of robotics projects on time, within budget, and in accordance with the CoE strategy. The automation project Manager will also be responsible for leading and guiding the business teams, RPA development teams, cross-functional representatives, and project sponsors/PMO teams.
"For an RPA project manager, the following skills are crucial:
Project management – an RPA Lead needs to own the whole delivery and project management skills ensure things are done right. If they have prior experience, are organised and can take charge, this also helps.
Decision-making – outside of the tech knowledge making an informed decision, even when in a new environment, is a key skill. Someone who executes and takes calculated risks when needed is very important.
In-depth technical experience – the RPA lead should be an expert in technology (ideally RPA), not one specific tool. They should understand the limits of what RPA can do. Knowing when and when not to use a tool is extremely important." – Harrison Goode
One more key skill:
Stakeholder management – An RPA Project Manager needs the ability to collaborate, influence and gain commitment from multiple stakeholders at various levels of the business.
RPA and CoE Business Analysts: Discovery
These subject matter experts create the "As Is" process definitions and documentation for automation. They also conduct research and analysis into what platforms and strategies will work for each idea and help the developer to design the best solution.
"Key skills to look for:
Being resourceful – a good BA ensures that they find the answers and don't wait for the answers to find them. A proactive nature is part and parcel of what's needed.

Leading the way – a key skill is to create alignment and ownership around the solution being delivered.

Excellent communication – effective communication is not an option, it's a necessity for a great BA." – Harrison Goode
Some other key skills include:
Expertise in lean business process improvement. Lean Business Process Improvements eliminate waste and increase process speed. Analysts trained in existing methodologies like Lean Six Sigma are experts at helping organizations optimize their processes before they implement RPA, as well as providing a framework to employees during an RPA implementation.

Experience of BPMN. A great business analyst should have some experience with BPMN. This graphical modelling language is useful for process mapping. It can be crucial for creating diagrams that communicate the flow of information for both the "as is" and "to be" states of a process.

Strong communication and problem-solving skills. Exceptional Business Analysts are master interviewers. They know how to ask the right questions to draw the information they need from the business and translate it into documentation that leads to successful automation.
RPA Developers: Trailblazers
Developers in this area are responsible for the design, development, and testing of CoE automation workflows. These individuals can also provide support for company-wide implementation of the CoE framework. They work closely with the RPA Business Analysts to ensure the solution also meets business requirements.
"Key skills to look for:
Good problem-solving skills (solution-minded) – being a good developer means being able to solve business problems effectively. If you hone this skill it will help you tenfold.
Communication – you work between the tech and people in an organisation and can speak both 'languages'.
Creative – knowing when not to use RPA or perhaps other ways of solving the problem you are dealing with to reach the best outcome." – Harrison Goode
Other key skills include:
Programming capabilities – Contrary to popular marketing, RPA is not exactly low code. As its use cases are many and usually need tailoring to specific processes, experience in programming languages to create an automation that truly fits the process is required. Java, .NET, Python, C, or C++ are extremely useful.

Knowledge of database query language – Not all data is stored on spreadsheets – phew! Good knowledge of SQL is useful to query data stored on databases.
Scripting languages – Good command of HTML and JavaScript

Understanding of the basics of Artificial Intelligence and Machine Learning – some process autotations may require the use of OCR, or document understanding technologies. RPA vendors may have their own renditions or a more specialised A.I (Artificial Intelligence). and ML software may be needed.
RPA Solution Architect
They select the appropriate set of technological tools and features and ensure the alignment of the solution to organisational goals. They define the architecture of the RPA solution and ensure procurement of adequate licences needed for CoE set up and development of a strong CoE framework for the implementation of RPA.
Controller and Supervisor
This role ensures that RPA initiatives are being delivered and that the underlying CoE strategy is being maintained through scheduling, monitoring, and provision of support.
Infrastructure Engineers
These individuals support teams working on CoE deployment and future operations. They provide infrastructure support including troubleshooting and server installations.
Service and Support
This team serves as the first point of contact for anyone needing support regarding queries, or issues during CoE implementation or post-automation.
Step 4: Launch your RPA CoE
Build a Great Pipeline
One aspect that determines the success of an RPA program is a great pipeline of ideas. There are many ways to achieve this, but most companies start with spreadsheets. This is considered to be the most inefficient way to run an intelligent automation program!
To improve the approach your organisation takes to discover and prioritise a pipeline of automation candidates, you'll want to consider:
Business engagement: How broadly throughout the organisation are you able to source automation ideas? 
Prioritisation: What ranking system will you use to choose one automation candidate over others? How does each opportunity help achieve the top-down business outcome objectives? 
Backlog: How many automation opportunities have been submitted but not assessed?
Throughput: How long does it take for a submitted automation idea to be assessed, developed, and deployed? 
Churn: How frequently are automation ideas assessed but ultimately not advanced for development? 
CoE-selected vs employee-driven automations: How many opportunities do not rank high enough against objectives to get prioritised for automation by the CoE? How will these business pain points be solved (i.e. citizen development)? 
This may seem like a great deal to consider and you may be wondering how to tackle all of this? Well, what if you don't need to? The SilkFlo platform has powerful features that enable you to discover and assess Automation ideas from your employees, without wasting hours on meetings and workshops.
Setup implementation controls
Creating governance and controls for your entire RPA lifecycle and ensuring they are adhered to allows the CoE to provide more autonomy to each business unit.
Creating and enforcing a gated workflow, from the idea stage, assessment, qualification, build and deployment can greatly reduce risk, and ensure code quality and compliance with company policies and standards.  
 
There are many different online resources on how to do this, however, SilkFlo comes with a crucial Workshop feature that enables a CoE to have complete visibility over their entire Intelligent Automation pipeline.
With full control over the project stage and status, your CoE can ensure that only the most profitable automations make it through to a production environment. 
Step 5: Scale your RPA CoE
A well-founded RPA Center of Excellence is crucial for the successful management and scale-up of RPA — or any form of digital automation. It is important to assess and monitor whether the strategic expectations are met. The CoE team will need to inform stakeholders about the overall project performance, and financials, reflect on feedback and document any lessons learned.
We have another great article on critical tips for managing your RPA program. 
The process of scaling up the CoE involves numerous steps, here are some important guidelines to keep in mind:
Ensure Continuous CoE Training
Continuous learning and training of your CoE team is crucial for ensuring the success of any digital automation project. Each member should be well versed in the tasks they are performing and should take adequate time to be trained on new skills.
There are three main principles to consider when training your RPA team. The first one is to have a clear learning philosophy, which should be based on the organisation's culture and values. The second principle is about finding the right balance between theory and practice. The third principle is about having a continuous training framework that meets the needs of the employees, while also being aligned with the company's objectives.
The majority of RPA software providers provide free, extensive training courses for each specific role mentioned above. Some MSPs also provide specific RPA-based training based on best practices and real-life learnings. Get acquainted with the different courses available and adapt them to your own learning framework.
Create an Intelligent Automation toolkit
"Spend time understanding technology and that includes working with it, horizon scanning for new tech often and helping implement technology programs that matter."

Kieran Gilmurray, Intelligent Automation Leader and Author.
One of the toughest tasks is choosing the right vendors to add to your Intelligent Automation toolkit. RPA is a great starting point on your intelligent automation journey, but there are many other technologies that can, when combined, help to automate your business processes end-to-end. We'll go over how to choose the right technology vendors and discuss the various technologies in further detail. Here's a quick list:
RPA
IDP/OCR
Chatbots/NLP
Low-code/BPM
Process Mining
ML/AI
The combination of these tools, paired with the expertise to properly implement them, is the foundation of true Intelligent Automation.
Increase the productivity of your RPA Center of Excellence with the right tools 
"Ensure all your teams deliver in an Agile manner, not just your IT team." 

Kieran Gilmurray, Intelligent Automation Leader and Author.
To effectively manage any given RPA initiative, it is vital to equip your RPA CoE team with the right tools. These tools will help automate some of their discovery, admin, reporting, workflows and providing a way to track progress.
Niche project management and workflow tools are essential in order to keep tabs on what is going on with automation projects. Financial metrics, such as ROI, can be crucial to determine how well a company's automation efforts are going, as well as gain a deeper understanding of the benefits at the process level. Some great tools to use are: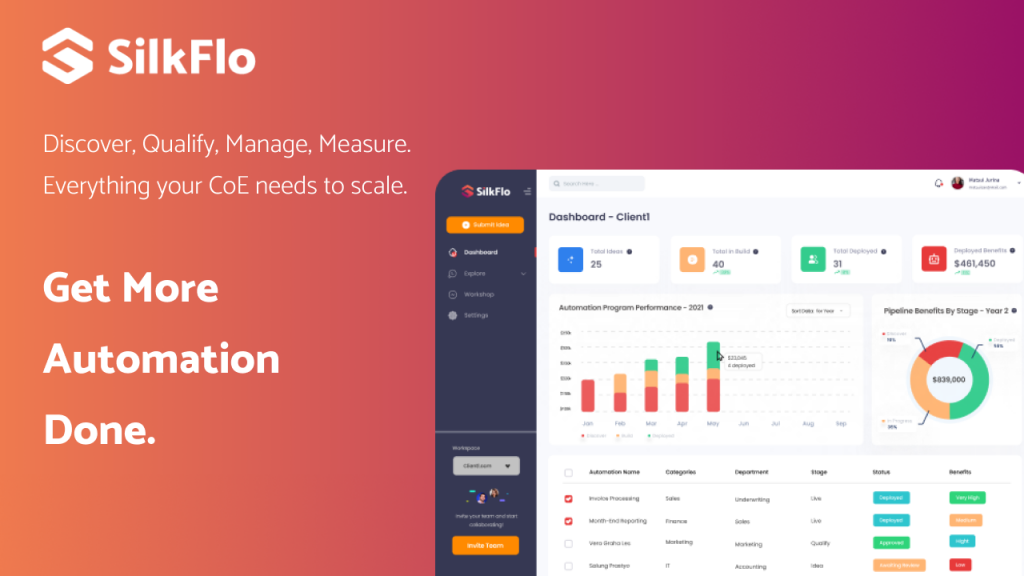 SilkFlo
SilkFlo is your end-to-end RPA CoE platform. Think AutomationOps. SilkFlo is a powerful, yet user-friendly project management tool that makes it easy for your CoE to identify and assess which processes can (and should) be automated, perform cost-benefit analysis and view instant metrics needed to make the most important go/no-go decisions.
Whether RPA, OCR/IDP, chatbots/NLP, low-code/BPM or AI (Artificial Intelligence), SilkFlo enables you to monitor and complete Intelligent Automation projects on time and within budget.
With an impressive range of features, SilkFlo provides your RPA Center of Excellence with comfort and ease when managing any Intelligent Automation project. 
SilkFlo's Performance dashboard is great! We can see the cost/hours saved and measure the business impact of the entire Automation program in one place! My team can now focus on solving business problems instead of building reports.

Head of IT, a global re-insurance group
The right RPA project management tool can make all the difference in the success of your Automation initiative. The challenge is finding one that offers the best features without breaking your budget, with a roadmap that you believe in. SilkFlo will help you get started with their transparent, tiered pricing plans.
Key Features:
Technology and vendor agnostic
Identify which processes can (and should) be automated.
Build and manage a great pipeline – ditch spreadsheets!
Engage your employees and keep them involved.
Understand the ROI of RPA, OCR/IDP, chatbots/NLP, low-code/BPM and AI projects.
Easily track project performance and crucial KPIs.
Keep process documentation in one place.
Manage high-scale automations, end-to-end.
Empower your CoE to collect processes from employees across the business and turn them into successful automations.
Stop wasting time, money, and energy chasing after countless hours of lost productivity – use SilkFlo to save time on your process improvement projects.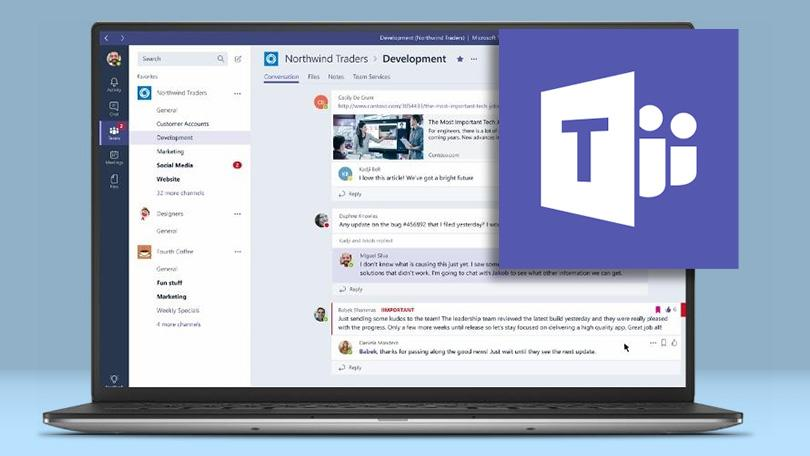 MS Teams
Microsoft Teams is Microsoft's answer to Slack.
It is a chat-based workspace where teams can share and edit documents, collaborate on projects, and chat with others.
It provides the ability to create private chats with team members or public channels for groups of people who are interested in the same topic. The app also lets you create different channels for different topics so that your team can stay focused on what they need to do without being distracted by other things. 
At SilkFlo, we use Teams ourselves to keep everyone on track.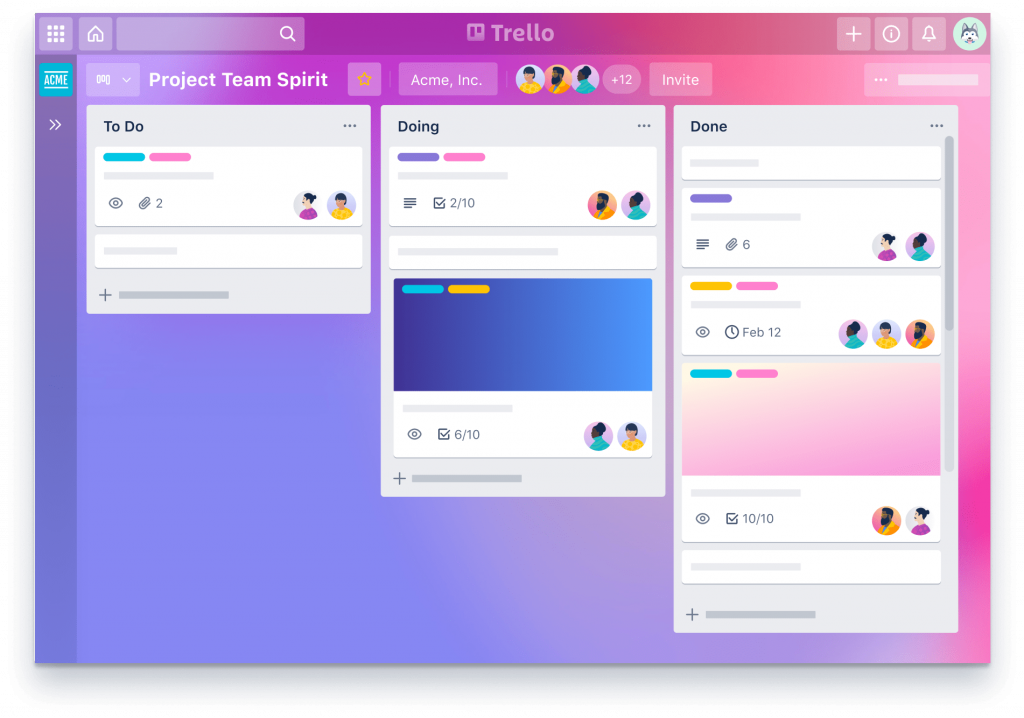 Trello
Trello is a web-based project management tool that helps teams to organise their work and manage tasks from start to finish. It was designed as an alternative to other project management software, such as Basecamp, Asana, and Microsoft Project.
In our opinion, Trello is the simplest CRM (Customer Relationship Management) and Task manager out there. It utilises dashboards that provide a user-friendly interface where you can organise "To-do" lists using visual cards.
Trello also offers other features: 
Automated checklists
Team templates 
Advanced search filters 
Data backup 
Private and secure data distribution 
Over 800 emojis for the enhanced communication opportunities 
One of the benefits of Trello is that it can be used within your Microsoft Teams platform. By adding a Trello tab into your Microsoft Teams channel, you can switch to Trello functionality when needed. Inside of the Trello Tab, users can complete, manage, and review their tasks just as they would if they logged in natively through the app or through the Trello website.
Understand and track project metrics
Monitoring the progress and performance of an intelligent automation Initiative is crucial to success. Tracking aspects of the initiative like CoE productivity, build pipeline, and scope makes it easier for team leaders to see what's on track, and what isn't.
As an RPA initiative evolves and moves toward intelligent automation, CoE Leads and RPA Project Managers need access to changing deadlines or budgets to meet their client's expectations. 
What makes project metrics so important is that they can give CoE team leaders a birds-eye view of any project in their automation pipeline, whether just an idea, or fully-fledged automation.
In fact, the 2020 State of Project Management report from Wellington found that 54% of teams don't have access to real-time project data. 
Armed with real-time data, RPA CoE teams can:
Analyze the health of an RPA project or the automation initiative as a whole
Solve problems during the RPA project (and not after it has been delivered)
Evaluate and change course if the automation budget or resources are at risk
Create forecasts to make future Intelligent automation spending and scheduling more accurate
RPA CoEs tend to use Excel as a starting point, using their own templates or those from technology vendors. This may be fine for the first few automations, but once the RPA project starts to scale, spreadsheets no longer cut it.
In a SilkFlo study, over 82% of companies reported tracking their Intelligent Automation efforts with spreadsheets, forms, and other customised solutions. The errors, rework and maintenance needed to sustain these increases as an Automation Initiative develops and companies move from the low-hanging fruit to more complex automations.
In a conversation with a leading UK retail group, the Head of RPA said, "Every Friday, we used to have 7 RPA Business Analysts working on maintaining project performance data on spreadsheets. With SilkFlo, it's built-in. We saved over £5,000 per month on that task alone!"
With a real-time, centralised dashboard, reporting on your automation initiative's progress has never been easier for your CoE.
Avoid Hidden costs of RPA and Intelligent Automation
Managing any project involves costs and risk. Most will look at the costs of Automation as licence fees, maintenance, and implementation costs.
Yet, what about the CoE's hidden cost of holding workshops, training developers, idea generation, maintaining a pipeline, business case creation, stakeholder alignment and sign-off?
How about the time spent updating and creating performance reporting for senior stakeholders? 
Build an internal automation community
When you establish and streamline the processes of your RPA Center of Excellence, you'll need to create some buzz and marketing around it to further expand your CoE's influence. Evangelising their efforts, and the benefits of their automation toolkit is crucial to building a continuous flow of opportunities and feed your pipeline. One of the best ways to do so is to focus on building a community. 
It's a good practice to hold recurring bi-weekly or monthly meetups. These sessions are a great way to raise RPA and IA visibility and introduce the technologies to new employees. You can use them to:
Introduce new automations.
Discuss the current results of the initiative.
Encourage the actual automation beneficiaries to share their experience of using RPA.
Share the plans for the next automations and more…
Speak the language of business rather than the language of tech, as your goal is to excite and attract more employees with different backgrounds and skillsets to join in. For more on how to evangelise RPA in your business, click here.
Final Thoughts
To successfully implement RPA in your organisation you need a robust CoE with a model that suits your desired business goals. You need a dedicated team with a systematic approach for developing and delivering RPA and intelligent automation projects and initiatives.
Companies implementing RPA, or considering it, should especially consider how an RPA Center of Excellence can take advantage of the ever-increasing scope of intelligent automation products to ensure sustainable and future-proof operations. 
To manage your RPA CoE effectively and scale it up accordingly, establishing a set of comprehensive go-to management and analytics tools like SilkFlo is essential.  
For more tips on managing an RPA initiative, see this article.
"Are you an IT/Automation Lead or RPA Manager that wants to kick-start their automation journey on the road toward successful Intelligent Automation? Find out how SilkFlo can help and Book a Demo today!"